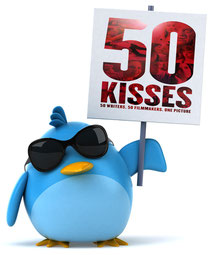 WOW – LondonSWF has made a feature film!!
To celebrate the amazing 50 Kisses World premiere in London on Feb 13th, 2014 Team LSF are delighted to announce a LUVERLY new Tweetfest competition based on romance!
In 2012, Team LSF launched the gargantuan task of creating the world's first crowdsourced feature film. It's been a long and rocky road, with countless writers' & filmmakers' submissions and lots of hard decisions had to be made. But we're finally at the end of the journey … and the finished film is ready to go!
Want to a win a ticket to the 50 Kisses Premiere for you and a friend (or loved one!!)? Here's what you do:

Write a logline of 140 characters - including hashtag #50Kissesprem – for a ROMANTIC COMEDY and post it to Twitter.

The logline can be for a REAL project or for an imaginary one – it's up to you.

THAT'S IT! Good luck xx

And here's the FAQ:

What do I get if I win?
You get 2 tickets, plus a bottle of bubbly! Travel/accommodation are not included to the event or Capital, sorry.

You've chosen Rom Coms this time – how come?
'Cos the movie's called 50 KISSES and the world premiere is the day before Valentine's Day. Duh.

How many times can I enter this one?

You can enter three times. Any tweets seen after the third will be disregarded.

What's the deadline?

The deadline is 5pm, February 10th 2014 GMT.

What if I forget the #50Kissesprem hashtag in my tweet?

Then you won't get entered into the contest! The hashtag is to help us with our searches and make sure no one gets missed, so make sure you include it.

Can people from overseas enter?

Yes.



How will you pick the winner?

Team LSF will pool its opinions and pick its favourite 10 from the tweets (after Feb 10th). We will then rank the top ten in order of preference. The top ten will be published to the 50 kisses site at www.50kissesfilm.com.

Can I post my logline on the LSF Facebook page?

No, sorry – the tweetfest is Twitter only, any loglines written on the LSF FB page will be disregarded.



I'm not sure what a logline is, can you help?

Sure. Check out The B2W Required Reading List – Loglines has its own section! Find it here.

I'm not on Twitter. Can you post my logline for me?

No, sorry – we've got loads of admin on at the moment and we'd hate to go and forget your loglines, so this is a Twitter contest ONLY. Why not join Twitter though? It's free and offers loads of great contacts and info for writers, especially if you follow the #scriptchat hashtag. A guide to getting started on Twitter.

140 Characters minus #50KissesPrem, are you kidding? That's totally not enough space to write my logline.


You'd be surprised how much you can squeeze into a tweet, even with a hashtag! It's certainly a handy exercise for writers, give it a go!



Hmmmm…. I dunno. If I post my logline online like this, how do I know Team LSF won't try to nick my idea? Or one of the delegates??

You can't copyright an idea anyway. Plus script readers see the same ideas ALL THE TIME, it's the execution of that idea that counts. Really! So why not give our contest a go? You've REALLY got nothing to lose… Check out this post about why people DON'T nick scripts or ideas.

GOOD LUCK!!!
PS Get tickets to the Premiere HERE